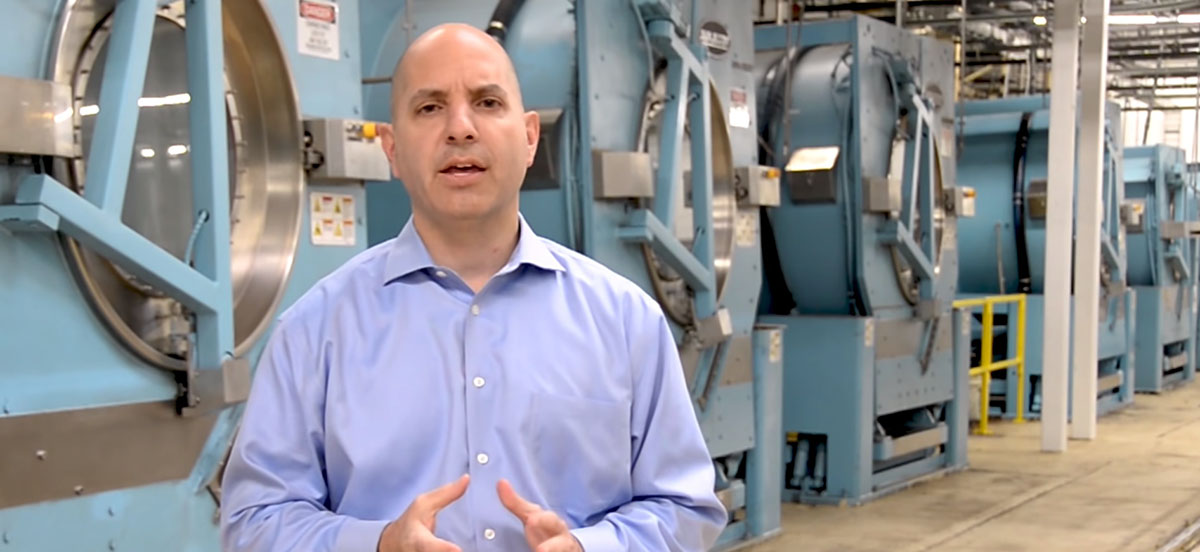 UniFirst Corporation President & CEO Steven S. Sintros addresses the company during one of his video updates, provided to all team partners throughout the COVID-19 pandemic.
Navigating the COVID-19 pandemic together
As the COVID-19 pandemic evolves, so do the supply, operations, and safety challenges faced on a daily basis by nuclear plants and their workers. UniTech is proud to be a problem-solving and business solutions partner to the nuclear industry, helping you meet these challenges head-on. And our success in navigating the ongoing pandemic has been made possible by the responsible and effective leadership from the top of our parent company, UniFirst Corporation.
At the onset of the pandemic, UniFirst President and CEO Steven S. Sintros and his team developed a company-wide communication plan for disseminating regular pandemic-related updates through print, email, and video – delivered to every level of the organization in multiple languages.
"UniFirst President and CEO Steven Sintros has made a point to consistently communicate with all 14,000 employee Team Partners through periodic video updates, including to all of our UniTech team members," said UniTech Director of Sales and Marketing Gregg Johnstone. "These updates — along with informed decision-making — have made the whole UniTech team across the U.S., Canada, and Europe feel valued, safe, and inspired to carry out the essential services we provide to the customers we care so much about, with thorough and effective safety protocols in place."
Back in March, UniFirst immediately established comprehensive company-wide safety protocols, including mandated use of personal protective equipment (PPE) for applicable job functions to protect all Team Partners and customers. At that time, UniFirst also ramped up heightened daily cleanings and disinfecting at all 260 company locations. These ongoing safety mandates remain in place today.
The majority of UniFirst's corporate office staff (roughly 300 team partners) transitioned to remote work and continue to work remotely today. UniFirst also provided supplemental "Relief Pay" programs to the company's Route Service Representatives, whose delivery commissions were negatively impacted by customer closures and/or reductions during the pandemic.
Additionally, UniFirst donated more than 250,000 face masks, hand sanitizers, and PPE to local communities in need throughout North America and made a significant donation to COVID-19 vaccine research.
With guidance from UniFirst, UniTech has been able to keep all of its North American regional facilities — in Springfield, MA; Royersford, PA; Morris, IL; Barnwell, SC; Oak Ridge, TN; Richland, WA; and Ontario, CA — fully operational with very limited disruption, as well as UniTech headquarters in Longmeadow, MA, with staff working remotely when possible.
Leading into the future with excellence While 2020 has been a year of new challenges, it's also one in which our parent company was recognized for demonstrating the sustainability and customer service values that are integral to the way both UniFirst and UniTech conduct business.
UniFirst's 2020 accolades include:
Named to Newsweek's 2020 List of America's Best Customer Service Providers.
A Silver Stevie® Award in the Customer Service & Call Center category at the 14th annual Stevie Awards for Sales & Customer Service. This is the third Stevie accolade that UniFirst has won for customer service in recent years.
4th overall ranking on Barron's third annual list of the 100 Most Sustainable Companies in the United States. After being ranked No. 38 in 2019, UniFirst jumped to No. 27 in Barron's initial 2020 rankings before ultimately landing the No. 4 spot, after Barron's reissued its 2020 list to reflect social commitments made during the COVID-19 pandemic.
30th overall ranking on Selling Power's 2020 "50 Best Companies to Sell For" list. UniFirst has now appeared on the list 17 consecutive years.
A 2020 APEX Award of Publication Excellence for the development and design of the company's new series of industry specific mini product sales catalogs. UniFirst also won other APEX Awards in 2019 and 2018.