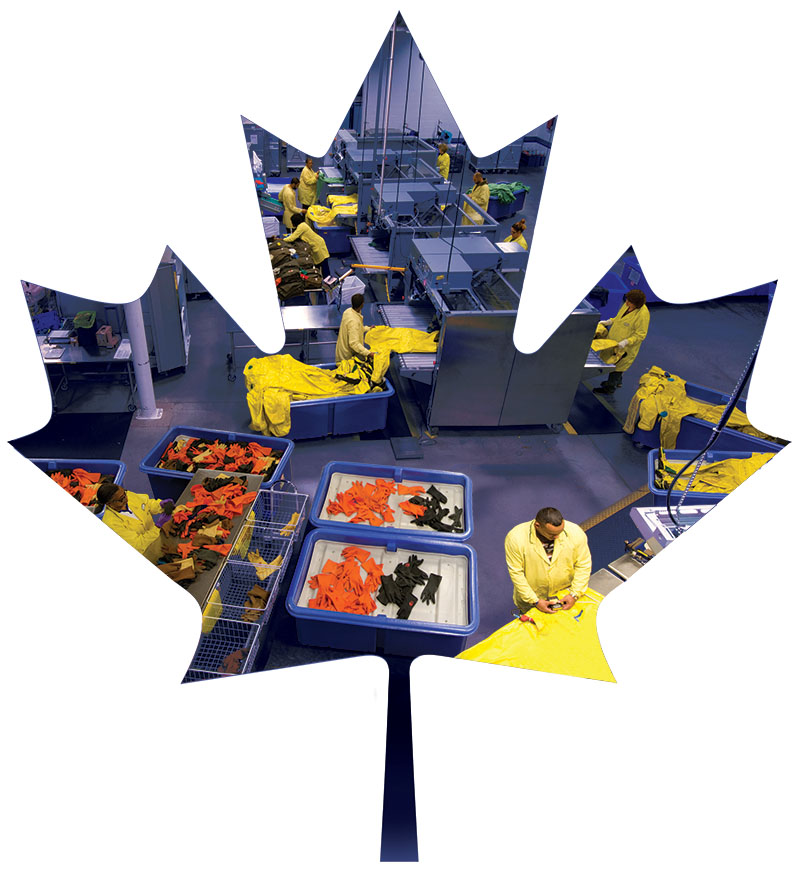 October marked 20 years of UniTech operations in Canada!
Since 2001, UniTech has worked closely with the Canadian nuclear industry to reduce the industry's carbon footprint and increase worker safety. Along the way, we have implemented reusable protective clothing laundry and management programs; emphasized decontamination, reuse, and recycling of materials; and engineered industry-leading advancements to the radiological monitoring and decontamination processes.
Today UniTech provides its Canadian customers a complete, turnkey laundry and shipment process, managing and maintaining all licensing and liability from the time materials leave a customer site until they are returned after processing at UniTech's U.S. facilities.
Thus far, partnership between UniTech and the Canadian nuclear industry has resulted in 8 million lbs. of waste avoidance. Other green, clean, sustainable outcomes of the partnership include:
4.8 million lbs. of tools and equipment released for unrestricted use or scrap metal.
58 million waste avoidance items decontaminated and returned for reuse, including but not limited to ProTech™ Anti-C coveralls, oversuits, gloves, booties, bags, and mops.
35 different launderable items incorporated into protective clothing programs, reducing radioactive waste.
1.7 million plastic suits processed, decontaminated, repaired, disinfected, and returned for reuse.
11,500 successful cross-border laundry shipments delivered with no delays.
"From day one in October 2001, the success of our support to the Canadian nuclear industry has been about reliability and continuous improvement," said Kent Anderson, Director of Canadian Operations. "We've invested in everything from licensing, classification, and transport, to development of new monitoring and decontamination technologies, to a variety of risk management measures to ensure Canadian nuclear
industry needs are met on-time and on-budget every time. Today, our partnership is stronger than ever, and we're excited about continuing to increase our value to the industry over the next twenty years."
Looking ahead, UniTech is currently focused on seeking new strategies to create economic benefits to local Canadian economies while carrying out continuous improvement efforts. UniTech will continue to research and develop new cost-saving programs and products, increase investment in facilities and equipment, explore the possibility of opening a processing plant in Canada, and establish relationships with indigenous community stakeholders.
Thank you to our Canadian customers for a rewarding two decades of partnership! Our team is proud of what we have accomplished with you so far!